Membership is FREE
Post Reviews, Receive Notice Of Specials
Sign Up Here
Head-on Collisions, Rear-end Crashes, Jackknife Accidents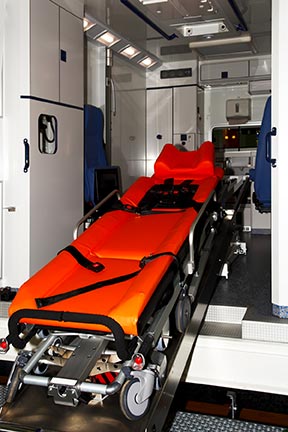 Common Types of Big Rig Truck Accidents
Head-on collisions, rear-end collisions, or jackknifed truck crashes are common types of truck accidents that involve big rig, tractor-trailers, or 18-wheelers. These are all serious types of truck accidents and if a passenger vehicle is involved, the results often include serious personal injury or death.
The lawyers of Gordon, Elias & Seely, L.L.P. have helped truck accident victims throughout the United States to receive the compensation they deserve they and their family members need as well as protect their rights. Our truck accident injury lawyers offer a free case review. If we decide to represent you, your truck accident claims will be taken on a contingency basis. We require no up-front fee
Negligence Causes Most Rear-End Crashes
Rear-end collisions are often caused by the negligence of the big rig truck driver. Five of the most common causes attributed to rear-end collisions are:
Following too closely
Driver distractions such as using a cell phone or switching the dial on the radio
Failure to notice construction zone signs or changes in traffic
Fatigue
Drunk driving or DUI
Speed
Size and Weight Disadvantages Passenger Vehicles in Truck Accidents
Because of the huge difference in the size and weight between commercial trucks and automobiles, the driver and passengers in the automobile have little chance of surviving such horrific collisions. A fully loaded big rig may be over 70 feet long and usually weighs more than 80,000 pounds. As a driver you probably learned that a passenger car traveling at high speeds should be at least six car-lengths behind the car in front of them. With a lot of traffic on our crowded highways, most drivers don't always follow this safety rule of thumb. But if you had to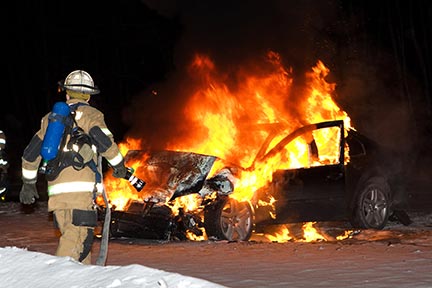 stop quickly, that six car-lengths behind the car in front could prevent you rear ending the car.
Now just imagine a fully loaded semi truck barreling down a highway and it needs to stop quickly. Going at a speed of 55 mph, an 18-wheeler truck's stopping distance is approximately 100 yards, which is the length of a football field whereas a mid-size passenger car traveling at the same 55 mph can stop within half of that distance.
Needless to say, it is critical that commercial truck drivers be attentive at all times, just as motorists should be aware of the potential dangers when driving near these huge trucks.
Head-On Collisions: The Deadliest of Big Rig Truck Accidents
Without a doubt, the most deadly of all truck accidents that involve passenger cars is the head-on collision. Due to the mass and momentum of a fully loaded commercial truck, when a tractor trailer / big rig truck collides head-on with an auto at a high rate of speed, the automobile passengers are at a distinct disadvantage. Death, brain injury, and paralysis are often the result. For those who happen to survive such devastating accidents, they may end up with a lifetime of pain and disability. Often head-on collision victims become paraplegics, quadriplegics, and / or burn victims
Look for Lawyers Who Will Aggressively Pursue Your Case
When the truck accident attorneys of Gordon, Elias & Seely, L.L.P are hired to represent a victim and/or family in a head-on collision case, we aggressively pursue your case on a contingency basis, making sure that you receive the necessary compensation that you deserve.
Common Causes of Jackknife Accidents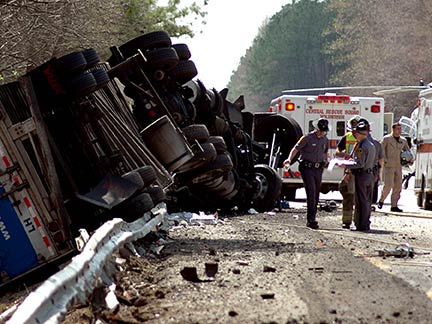 If you are familiar with the type of knife whose blade pivots to fold into a recess in the handle, often called a jack knife, or know what a jack knife dive is, you can more easily visualize what a commercial truck, big rig, or 18-wheeler looks like when its trailer folds in such a way that it resembles the acute angle of a folding pocket knife.
Brake Issues
These so called Jack knife accidents are most commonly caused by the driver suddenly applying the brakes of the truck. In addition, improperly adjusted brakes can also cause jackknife accidents.
Poorly adjusted truck brakes and truck brake failure are two of the top causes of auto truck accidents on America's roadways. Because many brake issues are easily preventable, it is unacceptable that some trucking companies and their drivers are not following the required maintenance regulations.
For example, despite knowing that loss of pedal pressure is the most common symptom of impending brake failure, some semi truck drivers ignore this warning and continue to drive with soft brake pedals. This can lead to the driver suddenly over applying brake pressure resulting in a jackknife accident.
In addition to brake issues, jackknife truck accidents can also be caused by the truck entering a curve too quickly, downshifting, the truck accelerating on a low friction surface and engine retarders. Engine retarder systems are used on many larger diesel trucks. They provide additional stopping ability to the truck as well as relieve the service brakes of excessive heat buildup and wear.
The Specialists Needed By Truck Accident Attorneys
The truck accident attorneys at Gordon, Elias & Seely, L.L.P are experts in the field of commercial truck accidents including rear-end, head-on collisions, and jackknife accidents. Our truck accident lawyers have the specialists needed to reconstruct the truck accident and determine its cause. Our medical specialists also understand and can explain the internal trauma that takes place in the human body when auto passengers are involved in a deadly rear-end, head-on, or jack knife collision.
To learn if the truck accident lawyers at Gordon, Elias & Seely, L.L.P can be of assistance to you, please contact a truck attorney at our law firm today to schedule a free initial consultation and case evaluation.
Call toll free: 1-800-773-6770 and speak with a highly experienced truck accident lawyer.
You pay no attorney fees unless we win your rear-end, head-on collision, or jackknife truck accident case.
OR fill out the Request More Information form at the top of the page.
Related Articles
Accident Reconstruction Services
Offers support for truck accident cases by establishing an extensive historical base of trucking accident reconstruction, trucking accident investigation. and collection of analysis data.