Membership is FREE
Post Reviews, Receive Notice Of Specials
Sign Up Here
Louisiana Truck Accident Lawyers
Lake Charles | New Orleans | Lafayette | Baton Rouge
Shreveport | Monroe | Alexandria | Bossier City
The Need for Experience in a Claim Involving a Tractor-Trailer Crash
Putting your Louisiana semi truck accident case in the hands of the truck accident lawyers of Gordon, Elias & Seely, L.L.P. is a decision that will remove the stress of trying to find experienced attorneys. We have the in depth knowledge and resources to help. Hiring a less-experienced attorney who quickly pushes for a fast settlement can rob you of your rightful compensation. We provide a high level of representation and employ a network of experts to build your truck accident case. Although there are times in which we may settle, it will only occur if the settlement is in your best interests, both short and long-term. We are always prepared to take your Louisiana big rig truck accident case to court, if the situation warrants it.
Representation on a Contingency Basis
Don't let money concerns or fear of your financial future stop you from contacting an attorney at Gordon, Elias & Seely, L.L.P. Everything we do for you is on a contingency basis. There are no up-front fees that are charged. You have enough to deal with when suffering from the physical and emotional injuries of a Louisiana trucking accident possibly caused by:
Holding Drivers and Trucking Companies Accountable for Louisiana Trucking Accidents
After a Louisiana truck accident, the adjuster for insurance company representing the truck company will contact you and try to make every attempt to "low ball" or avoid paying the full amount required to compensate you, or your loved one, for the injuries and damages you sustained. Do not sign anything. Hiring us could mean the difference between receiving tens of thousands of dollars or millions of dollars in compensation.
Here are a few guidelines to keep in mind when dealing with the aftermath of a serious trucking accident:
Make sure to collect and keep all medical records and files recording damags
Carefully consider all of your present expenses and even potential future medical costs related to your injury, etc)
Never sign any paperwork after the truck accident
Don't talk to an insurance adjuster without an attorney present
Large commercial truck accident lawsuits are often complex. With more than 40 years of experience and a thorough knowledge of trucking regulations, coupled with vast outside resources, our attorneys build tractor-trailer crash injury claims based on the facts gleaned by our truck accident specialists. We will always seek the best resolution for you whether it is through negotiation, mediation, or litigation. Victims of truck accidents deserve to receive fair insurance settlement not only for their physical injuries, but also for lost earnings, pain and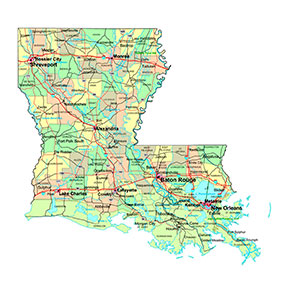 suffering, property damage, and future expenses.
Contact us if you have been injured in a truck accident in southern Louisiana while driving on I-10, I-12, I-55, Hwy 190 (Airline Highway), Hwy 90, Hwy 61, Hwy 23 or in northern Louisiana on I-20, I-220, I-49, Hwy 71, Hwy 165, Hwy 167, Hwy 171, Hwy 65, and any other roads in Louisiana.
Fill out the Free Case Evaluation Form on this page OR call and speak with an attorney at Gordon, Elias & Seely L.L.P., Toll Free at: 800-773-6770
The attorneys at Gordon, Elias & Seely, L.L.P. serve clients throughout northern Louisiana, including Shreveport, Minden, Ruston, Monroe, West Monroe, Tallulah, Deridder, Eunice, Opelousas, Ville Platte, Bogalusa, Alexandria, Leesville, Baker, Bastrop, Bossier City, Gonzales, Gretna, Hammond, Lake Providence, Minden, Natchitoches, Westwego and Pineville.
The attorneys at Gordon, Elias & Seely, L.L.P. serve clients throughout southern Louisiana, including Baton Rouge, Sulphur, Lake Charles, Jennings, Rayne, Crowley, Abbeville, New Iberia, Franklin, Morgan City, Thibodaux, Houma, New Orleans, Mandeville, Breaux Bridge, Covington, Denham Springs, Donaldsonville, Harahan, Kenner, Lafayette, Metairie, Plaquemine, Port Allen, Slidell, Zachary and Grand Isle.