Membership is FREE
Post Reviews, Receive Notice Of Specials
Sign Up Here
Tire Failure Can Cause Truck Accidents

Some Major Causes of Tire Failure
A common cause of truck accidents is tire failure. Often tire failure on a semi, big rig, or 18-wheeler truck is due to the trucker's negligent failure to inspect the vehicle's tires and to make the necessary repairs. A truck's tires warrant special attention by the trucker when preparing to start a job whether it will be a long distance haul along US highways or a shorter trip within a local city's roads. A truck's tires are a critical part of its equipment. Some of the causes of tire failure by truck drivers are as follows:
1. Tread separation
2. Tire blowouts
3. Under-inflated tires
4. Burnt treads (tread burn)
5. Overheated tires
6. Bent rims
If you've been injured in a truck accident contact the law offices of Gordon, Elias & Seely, L.L.P. Our crash forensics specialists will inspect the site of the accident as well as the vehicles involved. Their work will help our truck accident lawyers determine what caused the accident, which are the responsible parties, and whether you have a valid claim to sue.
Tread Detachments Cause Loss-of-Control Crashes
Tread detachments are the most common tire failures that cause loss-of-control crashes. Tire failure caused by tread separation on a highway can result in serious vehicle accidents by passenger cars, when suddenly out of nowhere tire debris appears in the road directly in front of them. Hitting tire debris from a large commercial truck at a high speed can severely damage a passenger car's suspension causing the car to veer off into another lane of traffic. Or the driver of the vehicle may swerve to avoid the separated tire tread resulting in a collision with another car or truck. Anyone who has driven roadways in the US that are heavily used by semi, big rig, or 18-wheeler trucks are familiar with tire failure debris, those long, heavy strips of tire, either littering the driving lanes or laying haphazardly along the sides of the road.
Possible causes of tread detachments include fatigue failures such as the under-inflation of the truck's tires with an overload of cargo, excessive speed, unrepaired tires, repair defects in the truck's tires, severe or concentrated impact of the tire with a foreign object, curb or pothole, mounting damage, tire age, and internal rusting of the steel cables in the tires.
Required Tire Safety Protocols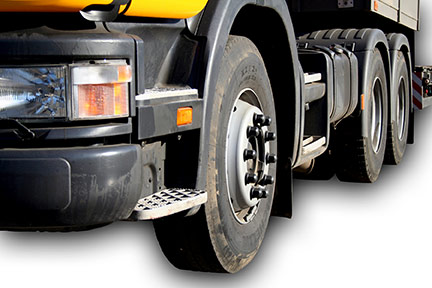 A part of safety protocols all truckers and trucking companies are required to perform is a pre-trip inspection of the truck, including tire inspections. Catastrophic truck accidents are complex with potentially many players involved besides the truck driver and the victims. The truck accident lawyers at Gordon, Elias & Seely, L.L.P. will explore all possible causes of the accident. For instance: did the tire manufacturer sell a defective truck tire, did the trucking companies allow their drivers to use tires that fail to meet the minimum DOT tread depth requirement, were tires mounted with mismatched tire sizes, were there paired tires with significantly different wear, or were there mixed bias and radial tires on the same axle? Any of these common maintenance mistakes could result in tire failure and a serious truck accident.
Pursue the Best Resolution for the Compensation You Deserve
If you or a loved one has been injured in a truck accident, you deserve compensation for not only for medical bills, rehabilitation expenses, and lost wages, but also for physical /mental pain and suffering. Elias & Seely, L.L.P. will pursue an assertive approach to obtain the compensation you deserve. Let our truck accident lawyers find the best resolution for your truck accident injury case.
Call us Toll Free: 1-800-773-6770 or fill out the Request More Information form at the top of the page.