Membership is FREE
Post Reviews, Receive Notice Of Specials
Sign Up Here
Auto -Truck Accidents: Commercial Truck Brake Failure
According to a study done by The Federal Motor Carrier Safety Administration and the National Highway Traffic Safety Administration, 29% of all commercial truck accidents, 18-wheeler, semi, or big-rig, tanker, flatbed, involve brake failure. If a truck's brakes malfunction or fail, a serious truck accident can occur resulting in serious injury, often compounded with property damage, lost income, diminished earning capacity, and pain and suffering, or even wrongful death.
If you have been injured because a commercial truck brake failure, please contact one of our truck accident attorneys at Gordon, Elias & Seely, L.L.P. We represent victims of truck accidents nationwide.
Causes of Commercial Truck Brake Failure
The tire and brake systems of a commercial tractor-trailer, semi, 18-wheeler, or other large truck are highly complex. The brake assemblies contain many parts and components, and must be regularly maintained by a highly skilled commercial truck mechanic. A few of the most common truck brake problems are: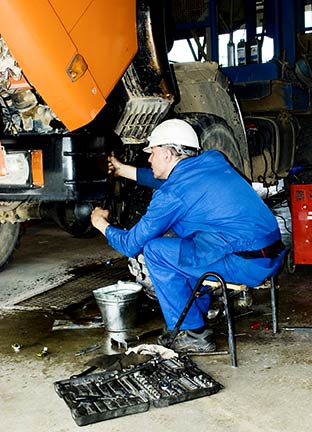 Poor air pressure
Condensation
Brakes out of adjustment
Worn break components
Worn tires
Improper maintenance is the main cause of most brake failures. Federal trucking laws require that truck drivers know about the condition of their brakes at all times and it is the truck owner's responsibility to ensure their trucks' brakes are properly maintained and inspected. Yet many drivers and owners, in a hurry to make delivery deadlines and focusing on profits instead of safety, overlook the maintenance of their brakes. This negligence results in hundreds of preventable injuries and deaths every year. According to the Pennsylvania District Attorney who prosecuted a vehicular homicide case caused by brake failure, a commercial truck, when its brakes fail, becomes a "74,000 pound death machine."
Who is to Blame for Defective Commercial Truck Brakes?
When commercial truck brakes fail or malfunction, several different parties may be responsible (individually or together), including:
The truck driver
The truck owner
The truck mechanic
The brake manufacturer
The truck accident lawyers at Gordon, Elias & Seely, L.L.P., have the resources you need to fully investigate your truck accident. From brake linings to caliper adjustments to hydraulic fluid levels and all points in between, our experts know what to look for to determine if brake issues were a factor in a truck accident that injured you or someone you love. They also know how to determine who was responsible for those issues. You can be sure that all of the parties above will have attorneys at their side ready to fight for them. Make sure you are ready to protect your rights by hiring an experienced auto and truck accident attorney from Gordon, Elias & Seely, L.L.P.
To learn if we can be of assistance to you, please contact a truck attorney at our law firm today to schedule a free initial consultation and case evaluation. Call toll free: 1-800-773-6770 and speak with a highly experienced truck accident lawyer. You pay no attorney fees unless we win your truck accident | truck brake failure case.
OR fill out the Request More Information form at the top of the page.