Membership is FREE
Post Reviews, Receive Notice Of Specials
Sign Up Here
Auto - Truck Accidents: Unsecured Loads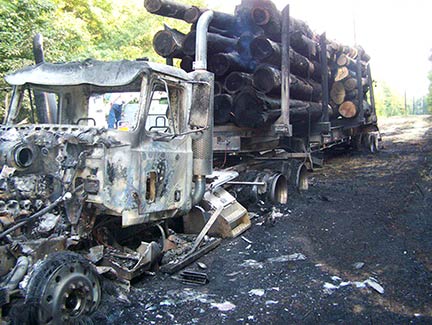 Improperly Secured Freight Can Be Catastrophic
Imagine driving down the road with a big rig tractor trailer in front of you. The size and speed of the truck is intimidating enough, but when the truck is carrying freight that is not properly secured, it can be absolutely terrifying. Big trucks often carry cars, logs, boulders, furniture, and other large loads, and if these items are not correctly secured, the consequences can be deadly.
Falling debris on the highway is a common occurrence. Flying pebbles and dirt can be a nuisance, but larger debris and loose loads on trucks can cause catastrophic accidents. Items falling from a tractor trailer can cause cars to swerve and lose control, resulting in lethal accidents. Sometimes freight or cargo will fall off a truck and fly through the windshield of a passenger car, injuring or killing the driver and passengers.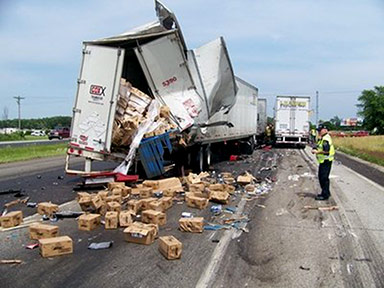 Shifting Loads Can Be Deadly
In addition to the danger caused by unsecured loose loads on a tractor trailer or flat bed truck, shifting loads can also be deadly. As a big rig truck travels, its load shifts. If the center of gravity is off by even a small amount, the truck can tip over and land on the car next to it causing serious injury or death to the driver and passengers of the car. Imagine having a 40-ton truck fall on you and your family while driving down the highway.
Possible Unsecured Loads Accident Causes
Loads not properly secured
Debris falling out of a truck
Loads that are improperly balanced on the bed of the truck
Loads not properly covered and secured
Unsecured Loads Accidents - Who Is Responsible?
Who is responsible for accidents caused by unsecured loads? It's not just the truck driver and trucking company who are responsible for unsecured loads and shifting cargo, it is also the truck loading company. It is their responsibility to make sure the truck cargo is properly secured and balanced. Loading and trucking companies must adhere to high safety standards when loading trucks, especially when a load contains hazardous or volatile material. If company fails to meet these standards, they can be held accountable for an accident that results from their negligence.
The Experts at Determining Who Is At Fault
At Gordon, Elias & Seely, L.L.P., our truck accident attorneys are experts at determining who is to blame for a deadly accident. We hold truck drivers, trucking companies, and loading companies accountable for their negligence in loading the trailer or flatbed of a commercial truck.
If you or someone you know has been injured or killed in a truck accident involving unsecured loads or improperly loaded freight, the truck accident lawyers at Gordon, Elias & Seely, L.L.P are available to assist you. Please contact a truck attorney at our law firm today to schedule a free initial consultation and case evaluation. Call toll free: 1-800-773-6770 and speak with a highly experienced truck accident lawyer. You pay no attorney fees unless we win your truck accident case.
OR fill out the Request More Information form at the top of the page.
Related Articles
Letter to Members of Congress Urging them to Vote NO on the Omnibus Appropriations Bill December 11, 2014
"………..we are writing to ask you to reject the Collins Rider to increase truck driver hours of service, and anti-safety riders to permit increases in truck weight limits in the states of………….."
Editorial: Suspension of Truck Driver Fatigue Rules - 2014
"……………….. U.S. Department of Transportation and scores of safety advocacy groups argue that suspending the regulations means tired truckers will keep driving -- posing a danger to themselves and others on the road."