Membership is FREE
Post Reviews, Receive Notice Of Specials
Sign Up Here
Firm Overview
All Across the Nation We Represent Clients Injured by Semi Trucks
Although the lawyers at Gordon, Elias & Seely, L.L.P. are based in Houston Texas, our firm is ready to defend your rights after a semi accident anywhere throughout the US. Semi Accidents can be incredibly devastating, leaving you or a family member seriously injured or even worse dead. We will make sure you are aware of your rights and if you become a client we will aggressively make sure your rights are protected.
Having an accomplished truck accident lawyer is imperative due to the complexity of semi accident claims. An experienced truck accident lawyer has not only the legal knowledge, but also the resources necessary to achieve the best results regardless of where you are located in the United States. Our specialists are ready to investigate your accident as soon as possible so that all evidence is preserved. Our seasoned lawyers have more than 40 years of combined experience and can provide the type of representation you deserve.
If you or a loved one has been injured in a truck accident, contact us toll free at 800-773-6770
Drivers Who Disregard the Rules of the Road Put Others at Risk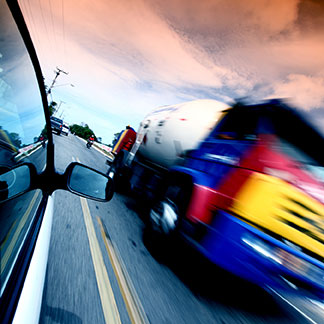 Semi and Commercial trucks are an essential part of shipping good across the nation. Many businesses depend upon these drivers to transport goods not matter if it just from one state to a neighboring state or if it is from one coast to the other coast. Most truck drivers take the necessary precautions to safely execute their job by obeying the laws, getting enough rest and only loading their trucks with the proper amount of goods. Unfortunately, some drivers and employers ignore trucking regulations and grossly disregard the safety of not only themselves, but also others on the road. By choosing to make a couple extra bucks at the possible expense of another person's life, everyone on the road is at risk. Such flagrant behavior can cause all sorts of consequences from head on collisions to jack knife accidents caused by failing tires, brakes, or shifting loads. When drivers push themselves beyond their limits because of an impossible delivery deadline, they end up overly fatigued and stressed. When combined with drugs and /or alcohol the results can be devastating, if they should lose control of their vehicle.
Free Consultation For Those injure by an 18-Wheeler Truck
The lawyers of Gordon, Elias & Seely, L.L.P. provide an initial free consultation. All our truck accident cases are on a contingency basis, which means you don't have to pay us until you have won your case and receive compensation. If you live in a state where the law permits, we will front money to our clients with no interest to help cover their bills until they receive a settlement. We believe in a personalized approach, providing the best possible advocacy for every accident victim we represent.
Contact Us
To receive more information or to schedule an appointment with a seasoned lawyer, please contact us at this toll free number: 800-773-6770